Description
The Case Club Xbox One X/S Portable Gaming Station is designed to let you take your gaming experience to both the next level, and to the next location!
Simply strap in your Xbox One X or Xbox One S and travel with peace of mind knowing that your Xbox One X or S is secured in the toughest gaming case on the market. Once at your destination (or along the way) just plug in the monitor and console power cords and you're good to game.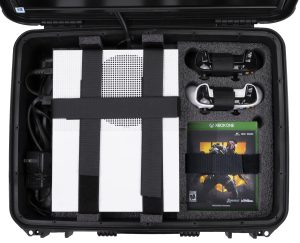 Your Xbox One X or S can stay strapped in and connected during both transit and during operation (no need to disconnect or remove the console).
The case is waterproof, shockproof, dust proof, and the interior foam is specifically cut to form fit your Xbox One X or S, 2 controllers, 4 game cases, and cords. Hook and Loop straps securely fasten down all of these items to protect against unwanted movement.
The vibrant built-in 19.5″ LED HD+ Monitor with dual internal speakers will bring your gaming experience to life where ever you go.The Case Club Xbox One X/S Portable Gaming Station comes with an HDMI cable pre-connected to the monitor that can be immediately hooked up to your Xbox One X or S.
This product will not fit the original Xbox One, only the Xbox One X and S models. Xbox One X, S, controllers, and games not included.
Patent Pending.