It's no secret, Pelican™ makes a great case. Pelican™ Cases are heavy duty and they have a lifetime warranty to back it, but today we learned the Pelican™ case warranty did not cover our broken cases… Here at Case Club we have always loved Pelican™ Products, but recently had a warranty claim denied and the reason might surprise you.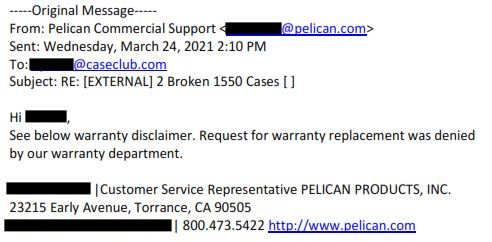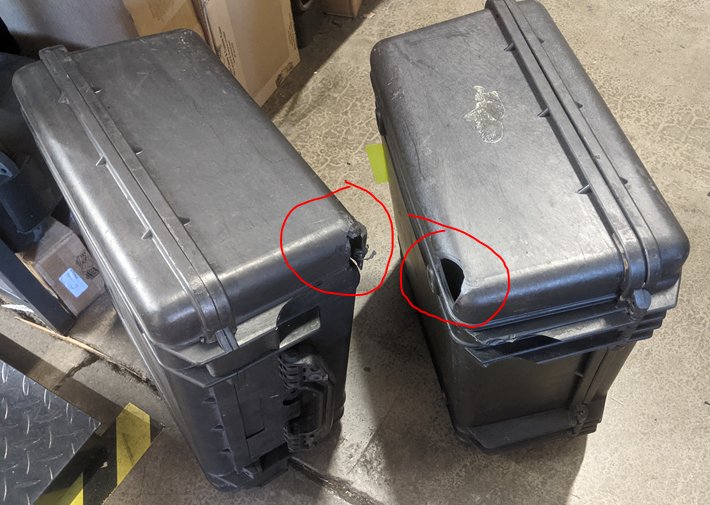 Believe it or not, the Pelican™ case warranty does not cover cases which have been damaged or abused. The warranty only covers cases that have failed due to workmanship or daily use. Essentially in our situation the damage to our Pelican™ case was deemed (by Pelican™) abuse, and therefore we are not covered.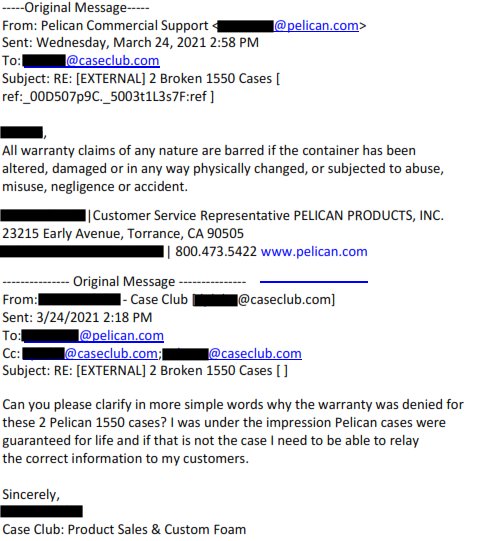 This whole situation left us very confused. We were always under the impression the Pelican™ warranty extended beyond just workmanship. After all what company doesn't warranty their product against poor workmanship? We always thought the lifetime guarantee covered any breakage and all abuse, but after having this claim denied it was clear our understanding on the "lifetime guarantee" was misunderstood. We reached out for further explanation on the matter and a Pelican™ rep was kind enough to break it down in a little more detail.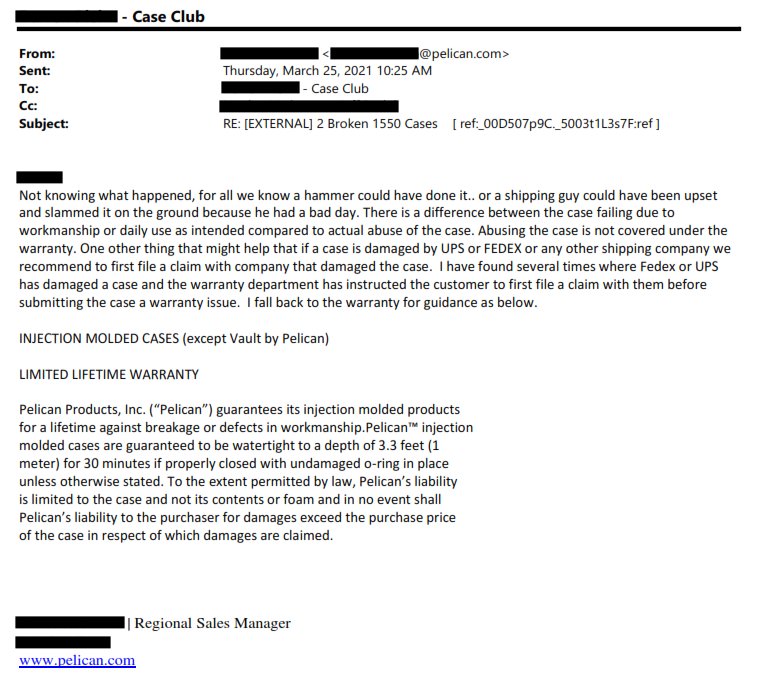 That response was very much appreciated, but also unexpected. If UPS or FedEx breaks your Pelican™ case, you might be instructed to file a claim with them first before the Pelican™ Warranty department will look into it and from our experience that's not the most pleasant thing to do. From there it can be assumed based on their warranty guidelines if Pelican™ determined UPS or FedEx abused the case in the act of breaking it, the warranty claim will be denied.
I think our preconceived notion stems from Pelican's™ more liberal approach to claims in the past. They likely warrantied a lot of cases which they didn't have to. In fact digging deeper into their history their slogan quietly changed over time. Perhaps due to customer confusion over their warranty guidelines.

With that said we have no problem with Pelican's™ warranty. As a private company they can write and modify it however they see fit. This post is merely an informational one to help others struggling to understand what the Pelican™ warranty covers. We are in the case industry and recently discovered our understanding of it was incorrect so it wouldn't be a stretch to assume others might need clarification as well.
If you do have further questions or need to contact Pelican™ regarding a broken case please visit their warranty page and contact them directly for more assistance. Details of their lifetime warranty can be found here: https://www.pelican.com/us/en/support/guarantee-of-excellence/