Laser precision custom foam inserts are now quick, easy & affordable.
Case Club specializes in machine cut highly precise custom foam to protect your gear and make it look awesome. Our recently renovated state of the art facility is now the most advanced in the industry & guarantees the custom foam meets your satisfaction & budget. With our upgraded production plant, incorporating only computer controlled equipment we are able to offer industry leading quality at budget friendly prices.
Every custom foam project is assigned one of our highly skilled engineers who will personally ensure everything turns out perfect. They will help you from initial conception to signing off on the finished product when everything is finished. By assigning you the actual engineer working on your job we ensure all questions are immediately answered and all your requirements are met.
Whether your custom foam project is large or small we are confident our customer service & production process will deliver the best products in the industry.
We can create custom foam insert in a variety of ways, but some of the most common are: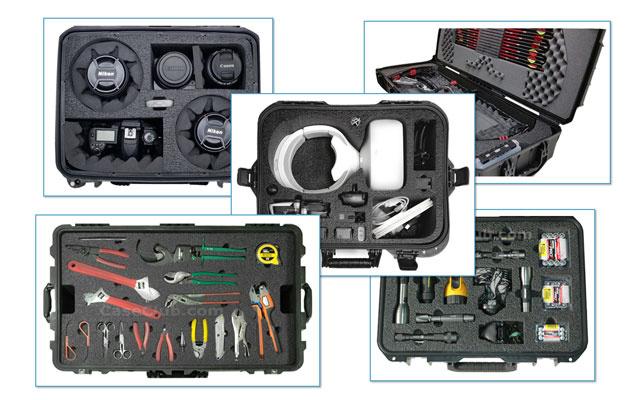 Sending or dropping off your gear is the easiest way to have custom foam made. By having your gear we can ensure perfect fitting inserts & you don't have to worry about doing any work. Going this route will also lower the overall lead-time for the foam as having your parts puts your job in the express lane.
Step 1: Package your parts. You might use old towels, shirts, foam peanuts, bubble wrap etc. Anything you do is fine as long as you make sure to safely protect your part. This stage is the most critical and will need to protect your item through the most vulnerable time your equipment will face so be sure to give the package care and attention.
Ship the part to:
Case Club
Custom Foam Department
4765 E Bryson St
Anaheim CA, 92807
Step 2: We do the work. The first thing we do when we receive the parts is contact you. At this time we can discuss any special requirements such as layout, foam type, lead-times, etc. We will also be able to give you a quote. If everything flows smoothly we can start production on the custom foam inserts immediately.
Our engineers are capable of using most CAD files. We can decipher your notes and follow directions well so you can be ensured your plan comes to fruition. Otherwise if you want to make a rough drawing, but have us give our input then we are more then happy to recommend improvements. Often with your vision and our expertise we can work together as a team to create the best inserts possible.
Drawings can be emailed to: sales@caseclub.com
For those who would prefer to trace their parts on paper, that option is also available. We are capable of cutting perfectly on your trace lines so the time you spend tracing your gear will directly translate into the product you're purchasing. Using a strait edge against your gear is recommended as it keep the trace perfectly sized.