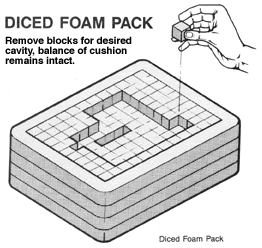 Pre-Scored Pluckable Foam is a foam insert that consists of vertically pre-scored blocks that can be easily "plucked" to provide a snug fit for equipment and accessories. Pre-Scored Pluckable Foam inserts will protect your equipment in even the toughest and most abusive trips. Also known as Pinch & Tear, Diced Foam, Cubed Foam, Pick N Pluck™ or Perforated Foam.
Many cases we offer can be purchased with this foam. It is very economical for the average buyer. A proper foam insert usually consists of two or more layers of pre-scored pluckable foam. When ordering pre-scored pluckable foam it is common to also order convoluted foam for the lid of the case, and a flat pad to sit below the pre-scored pluckable foam. Depending on the size of the case it may include more then one layer of pre-scored pluckable foam. These foam sets are usually made to order, but available in 2 to 3 days.
If your project requires more customization or you desire a more turnkey option, our Custom Foam Inserts offer a more exact fit. Be advised since pre-scored pluckable foam inserts are custom cut to your order they are not returnable. Flat foam is also available if you need this material, but not perforated.