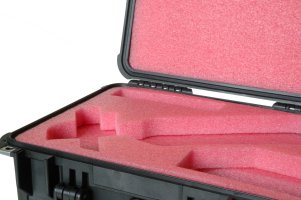 Anti-Static foam (also known as anti-stat foam) is a form of foam which has a chemical agent that will not create a static charge when rubbed against itself. The foam will allow static charges to pass through it in essence protecting your sensitive equipment & not passing the charge into your items. Anti-stat foam is dyed pink for visual identification & generally cannot be bought in other colors without a minimum volume order. Why pink? It has been like that since the beginning of time & no one really knows.
Remember this: when creating an anti-stat insert which will fit inside of a case to use anti-stat foam in the lid as well. People often forget this and will use regular convoluted foam in the lid rather than anti-static foam. This will defeat the purpose altogether of using anti-static foam in the base.
Now for the big question… Should you buy your foam insert with anti-static foam or not? Generally speaking if you are not sure then the answer is usually no. With that being said if you are not sure, but the foam is within your budget & you are putting sensitive electronic equipment in the case then go for it as it can't hurt. You can learn further about different types of case foams here.